Here be arts...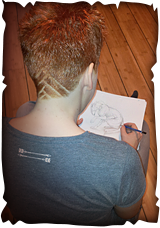 This website shows the artworks of mainly one artist. Lizkay's works are mostly created digital but based on traditional artwork, such as simple pencil sketches. Her artwork can also be found here:
If you plan to use any artwork, tutorial or other things represented on this website, please contact the artist at first about the correct useage.
E-mail contact: artygrafix

hotmail . com
This website was created for portfolio useage only and has no commercial character.
Impressum
Activities/Clients:
Commission Status:

(please contact me for details)
Freelancing:

(please contact me for details)
Current Projects: Aeladhal